Invisalign is increasing in popularity. Fast becoming a go-to method of orthodontic treatment for many patients. Prospective patients like you may be unaware of the factors that determine the average cost of Invisalign treatment. Dr. Ashley Reynolds specializes in treating patients with Invisalign in South Lyon, MI. The average cost of Invisalign may account for more than just an out of pocket expense. Invisalign requires investing your time, effort, and commitment to effective treatment.
Why Dr. Reynolds for Invisalign Treatment?
Our own Dr. Ashley Reynolds was awarded her Bachelor of Science from Centenary College of Louisiana in 1992. She then received her Doctor of Dental Surgery from Baylor College of Dentistry in 1996. Before beginning her orthodontic residency, she practiced general dentistry for 4 years in the Dallas area. Dr. Reynolds attended the University of Detroit Mercy. There she received her Master of Science and Certificate in Orthodontics in 2002. She has been in practice since 2002 and has since become a member of a number of organizations. She is part of the following groups: American Association of Orthodontists, Michigan Association of Orthodontists, Great Lakes Association of Orthodontists, American Dental Association and the Oakland County Dental Society. By continuously attending seminars she is always expanding her knowledge of orthodontics and finding new ways to help you.
Why Invisalign?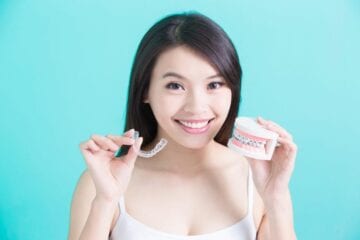 Invisalign promotes all the same benefits of traditional orthodontic hardware. It does so in a compact, invisible alternative package. By straightening your teeth you will create a healthier space within your mouth. You may even feel the benefits of increased self-esteem, and happiness overall. Having peace of mind when it comes to your orthodontic health is priceless. Don't worry about more expensive treatments down the road. Focus on your orthodontic health now, and your mouth will thank you later. Invisalign is made of durable, lightweight material that is custom suited to your individual mouth. A series of aligners will be created and replaced as necessary. The aligners are invisible and completely removable. This gives you as a patient added flexibility!
Determine Your Average Cost of Invisalign
Typically Invisalign cost is decided based on many different factors. You should be seen by Dr. Reynolds to best decide how to go about treatment. Each mouth differs, therefore no treatment will be exactly the same. The average cost of Invisalign ranges because of individual factors like the complexity of the issues to be corrected, the number of aligners required, the number of visits and your location. All of these factors will contribute to the Invisalign cost. Typically our patients see their average cost of Invisalign end up around $5000.
Crescent Orthodontics accepts many major insurance coverages as well as most major credit card providers. If your orthodontic care is covered by your insurance provider, you may be able to benefit from reduced out of pocket costs. Contact Crescent Orthodontics to schedule a free consultation and learn more about how Invisalign can benefit you!